Accomodation Guide
Humewood Castle Accomodation Guide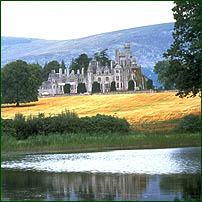 Situated at the foot of the Wicklow Mountains, Humewood Castle's walled estate extends to almost 500 acres. Its quality is unquestionable, having been rated by Conde Nast Traveler as one of the fifty greatest private villas in the world. The Castle was built between 1867 and 1870 to the design of internationally renowned architect William White and was commissioned by the Right Honourable William Hume Dick, MP.

It is said that the Right Honourable Hume Dick had "an occasional resort in the summer or shooting season" in mind but White continued to improve upon his original designs, over running his planned expenditure of £15,000 by £10,000 - a small fortune in the 19th century. The subsequent refusal to pay the difference to the builder - Albert Kimberly, resulted in one of the famous architectural law cases: Kimberley V White & Dick. The builder won and in the process ruined the career of White - a sad ending for the man responsible for this piece of architectural genius.

Humewood is a Victorian hybrid - a Scottish baronial hall with certain Irish peculiarities in battlement detail. Its asymmetry and spectacular mass of local granite, punctuated by soaring battlements and pointed granite towers, ascend gradually to an oblong tower, over 100 feet in height. The stunning effect has prompted such experts in Victorian architecture as Professor Mark Girouard to acknowledge Humewood as "the finest and most important 19th century castellated mansion in Ireland". The hospitality and service is performed with subtle grace by staff skilled in anticipating your needs even before you have thought of it. The food - creative Irish cooking is complimented by a superbly stocked wine cellar, while the chef at Humewood takes full advantage of the Estate gardens when planning his meals.

ROOMS: 14 spectacular, luxuriously appointed bedrooms, each with private bathroom. All bedrooms are strikingly different with each decorated around a particular theme. One can move from the elegant Empire Suite to the period splendour of the Napoleonic Suite, from the warmth of the Vivaldi Suite to the powerful beauty of the Dynasty Suite.

LOCATION : East of Ireland, 45 miles south of Dublin City.

FACILITIES: Trail Riding • Clay Pigeon Shooting • Fishing • Polo • Cycling • Hill Walking

NEARBY GOLF COURSES: Being only 45 miles from Dublin, great courses like, Portmarnock, The Island and Royal Dublin are easily accessible. Other superb championship golf courses in the vicinity include Druids Glen, the European Club, Rathsallagh and the K Club, all of which are within an hour drive.

NEARBY ATTRACTIONS: Besides the normal attractions of Dublin, Ireland's capital city, Humewood Castle is located in County Wicklow, a region aptly named "The Garden of Ireland" for its scenic beauty. Just some of the interesting places to visit include Powerscourt Waterfall, Avondale House (birthplace of Charles Stuart Parnell), Meetings of the Waters and Mount Usher Gardens.