Golf Destinations
Portugal Golf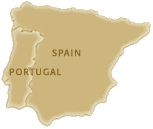 For such a small country, Portugal's sheer variety of landscapes comes as a surprise. Blessed with year-round sunshine, it is bordered from south to north by the blue waters of the ocean, and is a true golfers' paradise.
The Algarve Coast of Portugal, like it's Spanish neighbor the Costa del Sol, can boast of having some of the finest championship courses in the world. Likewise, the Estoril Coast area, just outside Lisbon, is the perfect place to combine great golf with sightseeing in one of Europe's most historic capitals.
Highlights of the Algarve include San Lorenzo, Quinta do Lago and the three Vilamoura courses. Belas, Praia del Rey and Penha Longa, past site of the Portuguese Open, are but a few of the venues that are definitely worth testing your skills on in the Estoril area.
If you are seeking a new, interesting locale to test your skills, consider a trip to beautiful Portugal! The courses, hospitality, history and culture of this lovely country will simply charm you.
Portugal Golf Courses
Also see from GolfEurope.com:

[an error occurred while processing this directive]