Accomodation Guide
Luttrellstown Castle Accomodation Guide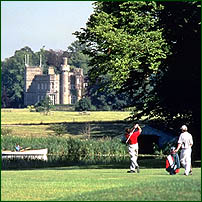 Luttrellstown Castle, though situated only six miles from Dublin City, is set in 560 acres of beautiful undulating parkland. The estate's secure walls ensure the privacy to enjoy the Castle's fine tradition of hospitality and its extensive outdoor amenities. This imposing gothic castle, part of which dates back to 1436, has recently been lavishly restored. Its sixty rooms include the magnificent ballroom, four elegant main reception rooms, the billiard room, and fourteen luxurious, individually furnished double bedrooms, each with its own stylish bathroom. The warmth of the welcome and the superb service matches the delightful comfort of the surroundings.

The cuisine - a blend of Irish and International, is a justly celebrated experience, which has been acclaimed worldwide. Luttrellstown Castle has a long history of providing hospitality for exclusive guests. Queen Victoria stayed twice and more recent visitors have included former President Reagan, Prince Rainier and Princess Grace of Monaco, the Grand Duke of Luxembourg and the King and Queen of Denmark.

One could never be bored at Luttrellstown - guests may amble along one of the many scenic walks or cycle across its lush pastures. A spot of clay pigeon shooting might sharpen the eye, a relaxed game of croquet is sure to raise a laugh or two, while the championship golf course would test even the most accomplished golfer. The castle's facilities also include a swimming pool and tennis court, while guests may fish on any of the castles private lakes. Fox hunting can be arranged with local packs, as well as pheasant and duck shooting.

ROOMS: 14 luxurious bedrooms, each of which are individually decorated and furnished. Accommodation is also offered in the form of 2 self-catering "Courtyard Apartments", available with two or four bedrooms.


LOCATION: Dublin, East of Ireland

FACILITIES: Championship Golf Course • Shooting • Horse Riding • Tennis • Billiard Room • Swimming Pool

NEARBY GOLF COURSES: Besides the magnificent golf course on site at Luttrellstown Castle, there are countless other superb courses within a short drive. These include Portmarnock Golf Club, Royal Dublin, The Island, Druids Glen, The K Club and Portmarnock Hotel & Golf Links among others.

NEARBY ATTRACTIONS: Proximity to Dublin City means that everything the capital city has to offer is easily accessible. Museums, restaurants, art galleries and great pubs are all close by. Shopping in the capital is a fantastic experience with Grafton Street a must for all visitors.