Accomodation Guide
Blue Haven Accomodation Guide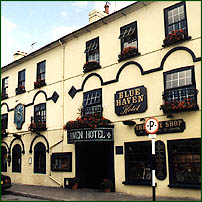 The Blue Haven is a small, cosy hotel situated in the historic fishing village of Kinsale, on the site of the old fish market. Extremely high standards of food and service are the qualities for which the Blue Haven has become renowned.
The numerous awards won by the Blue Haven include being voted the 'Best Hotel in Ireland' in 1996 by the prestigious Egon Ronay / Jameson Guide and in 1989, the hotel was recognised as the having the 'Best Seafood Bar in Ireland'. Over the years, The Blue Haven has been consistently rated as one of Ireland's leading dining out spots, with the emphasis on seafood and shellfish - delicacies that Kinsale has in abundance. 'Elle' magazine recently voted the hot smoked salmon dish at the hotel as one of their 'top ten dream meals of the world'.
As a town, the inherent character and atmosphere of Kinsale is hard to beat. Kinsale's deep natural harbour, prolific seas and well-organised angling centres have made it into one of Europe's foremost sea angling venues. Two superb yacht marinas and an abundance of golf courses nearby cement the attraction of this quaint little town to all concerned.
ROOMS: 18 en-suite bedrooms, furnished in an individual, tasteful and comfortable town house style.
LOCATION: Southwest Ireland, 15 miles from Cork City
NEARBY GOLF COURSES: Situated in Southwest Ireland, the Blue Haven is ideally located in terms of playing the famed golfing gems of this region. Only 25 minutes from Kinsale lies one of the finest new links developments in the World - The Old Head of Kinsale Golf Club. Ballybunion, Killarney, Waterville, Dooks and Tralee are all within a two-hour drive and all are world class courses.
NEARBY ATTRACTIONS: Kinsale is surrounded by beautiful countryside, so any day out will be enjoyable. Blarney is within an hour drive, the site of the legendary Blarney Stone. According to legend, those who brave the angles in order to kiss the stone will receive the eternal "gift of the gab". The Lakes of Killarney and Ring of Kerry are both within touring distance, while the Dingle Peninsula and Muckross House in Kerry are well worth visiting. In nearby Cobh, the Queenstown Story tells the sad history of enforced emigration, while the shopping city of Cork is just over 30 minutes away.