Accomodation Guide
Merrion Hotel Accomodation Guide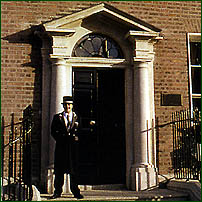 Dawn in the heart of Georgian Dublin. The birds in Merrion Square are calling to the birds in St. Stephens Green. The elegant bricks of the 18th century houses gleam softly in the pale early morning light." If this sounds like poetry, then you're right.
The Merrion is just that - poetry in perpetual motion. Log fires are lit, the smell of baking bread wafts from the kitchens, fresh flowers are arranged in sparkling crystal vases and the 200 year old tradition of gracious Irish living enjoyed by Lord Monck and the Duke of Wellington is reincarnated in the shape of the Merrion Hotel.
With 145 bedrooms, including 15 suites, The Merrion received its first international accolade just one month after opening its gracious doors for the first time in 1997, when it was awarded 'The best hotel room in Dublin' by Fortune, America's leading business magazine. The Merrion, which was created from four magnificent Georgian style terraced houses, once again boasts all the grace and elegance of the 18th century.
The interior of the hotel remains true to its Georgian origins and the drawing rooms, with their Rococo plasterwork and cornices have been restored to their former glories. The health and fitness centre, which boasts an 18-metre swimming pool, gymnasium and steam room, offers exercise and relaxation in surroundings practically unrivalled in Dublin, while two landscaped gardens with box hedges, water features and pathways recreate the aura of an 18th century garden.
ROOMS: 145 luxurious guestrooms, including 15 suites. All bedrooms are fully equipped with fax & ISDN lines, personalised voice mail and video conferencing facilities. The elegant rooms of the 'Garden Wing"' overlook the box hedges and rose arches of period gardens, while in the Main House, some rooms boast delicate Rococo plasterwork ceilings and others magnificent marble fireplaces

LOCATION: Eastern Ireland in the heart of Dublin City
FACILITIES: Swimming Pool • Sauna • Gymnasium • Video Conferencing & ISDN lines in all guest rooms • 2 Restaurants including acclaimed 'Patrick Guilbaud Restaurant' • Private Gardens
NEARBY GOLF COURSES: As with all hotels in Dublin City, the choice of top golf courses is phenomenal. Among the many superb courses within immediate reach are Royal Dublin, Portmarnock, The Island and Portmarnock Links, while many others such as K Club, Druids Glen, European Club and Baltray are within a short drive.
NEARBY ATTRACTIONS: Dublin offers so much in terms of culture, history, sightseeing, shopping and 'craic', it would perhaps be easier to comment on what is not available in the city, but we won't. Grafton Street and Henry Street provide the focal point for shopping expeditions, historical tours of the city operate many times daily, hours may be blissfully whiled away by visiting historical Kilmainham Jail or the many museums and Guinness proves a great thirst quencher in any of the pubs. St. Stephens Green in the centre of the city is perfect for a stroll or to wind down from an active day out and about.