Accomodation Guide
Shelbourne Hotel Golf Accomodation Guide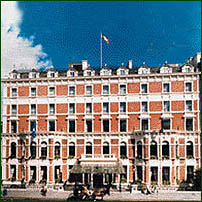 Its history is an inextricable part of Dublin's literary, culinary and artistic tradition. Although The Shelbourne opened its doors as late as 1824, it quickly became the toast of the literati. Joyce couldn't resist mentioning it in his classic, 'Ulysses', Thackeray immortalised it, while Princess Grace, Irving and countless others blessed it with their presence.

Set like a jewel in the centre of busy Dublin, The Shelbourne offers Georgian refinement with peerless views over St. Stephen's Green. The Lord Mayor's Lounge provides the rich backdrop to one of Dublin's oldest and finest traditions - morning coffee and afternoon tea at The Shelbourne. Private suites are provided for guests to enjoy a relaxing evening with friends in exquisite surroundings and seclusion. The uniquely traditional flavour of the cuisine is matched by the quality of the guest bedrooms and suites.

The historical aspect of the hotel is reinforced by the fact that in 1922, the Irish Constitution was drafted in one of the hotel's function rooms. Since those days the hotel has undergone a full restoration project and is now deservedly known as "The most distinguished address in Ireland".

The classic style of decor and high standards of comfort are often more reminiscent of a stately home than a hotel. But, with the attentive service, you will be able to enjoy the luxury of these elegant surroundings to the full.

ROOMS: 190 luxurious en-suite guestrooms, with 22 suites including the famous "Princess Grace Suite". All are recently refurbished to the highest standards, combining elegance and comfort with all modern amenities.

LOCATION: Eastern Ireland in the centre of Dublin City

FACILITIES: Two World Class Restaurants • Health, Fitness & Relaxation Centre • Swimming Pool • Jacuzzi • Steam Room • Beauty Salon • Traditional Gentleman's Barber

NEARBY GOLF COURSES: Dublin City and surrounds offer a superb selection of courses. The world class championship courses nearby include Portmarnock, Royal Dublin, The Island and Portmarnock Hotel & Golf Links. Other top courses within a short drive include Druids Glen, K Club and Baltray. For the casual golfer, excellent pay & play courses include Grange Castle, Elmgreen & Corballis Golf Links.

NEARBY ATTRACTIONS: Dublin City is a true hive of activity. From shopping on the capital's famous streets – Grafton Street & Henry Street, to nightlife, culture and sightseeing, Dublin offers all and more in abundance. From an historical perspective, Kilmainham Jail and the variety of museums are worth a visit, while St. Stephens Green offers the opportunity to stroll amid beautiful greenery in the heart of Dublin City.