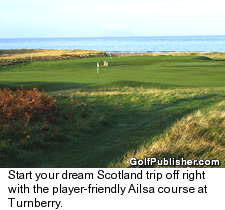 FEATURE STORY
Scotland golf tours: A dream itinerary for that once-in-a-lifetime vacation
By Brandon Tucker,
Senior Writer
ST. ANDREWS, Scotland (Nov. 22, 2006) - Unless you're very rich or very footloose - or, of course, unless you're Scottish - you may only get one shot at that dream golf vacation to Scotland. So you'd better do it right.
Driving from Turnberry in South Ayrshire to Brora in the Highlands isn't exactly a morning commute. But if you plot your trip wisely, you can see almost everything while spending minimal time in the car.
Here's how to do it.
Day 1: Fly into either Glasgow Airport or Prestwick International. After acquiring your rental car, drive a half-hour south and check into the five-star Westin Turnberry. Squeeze in some practice time before dinner on the front-lawn pitch 'n' putt - or maybe after dinner on the 18-hole putting course just outside the restaurant.
Day 2: Spend the morning at Turnberry's Ailsa golf course, venue for the 2009 British Open and site of the 1977 "Duel in the Sun" between Tom Watson and Jack Nicklaus, arguably the most famous weekend showdown in golf history.
This just might be Scotland's most photogenic golf course, with dream views of Ailsa Craig rock off-shore and the lighthouse at the ninth tee. A resort course, Ailsa won't beat you up; the rough is mowed pretty low and greens and fairways are in great shape all year.
Day 3: Head back up the Firth of Clyde coast to Prestwick Golf Club, in the shadow of the airport. Host of the first British Open in 1860 and the next 11 after that, Prestwick is a proper introduction to the ways of Old Tom Morris, full of blind shots and quirks. Stay the night at the Old Course Hotel overlooking the club.
Day 4: Follow the firth to Royal Troon Golf Club, about 10 minutes from Prestwick and arguably the most difficult of the Open venues.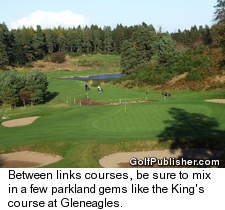 Day 5: Take a break from the mentally draining links courses you've been playing at Loch Lomond Golf Club north of Glasgow.
Now you come to a choice.
Option 1: Rejuvenate further at Cameron House, an enchanting five-star hotel on the shores of Loch Lomond. Its narrow, nine-hole Wee Course is a perfect place to work out the kinks in your wedge game. (Come next year you can play a full 18 on Cameron House's new course, The Carrick.)
Option 2: If you're eager to be ready for tomorrow's round - or rounds - head north straightaway to the Royal Golf Hotel in Dornoch.
Day 6: If you stayed last night by Loch Lomond, consider taking a golf off-day to savor the three- to four-hour drive into the Highlands. Otherwise, tee off your morning at famed Royal Dornoch Golf Club. If there's enough sunlight, play it twice - it's that good, and less crowded than that other well-loved Scottish golf courses due to its relatively remote location.
If you want an afternoon-round change of pace, drive a half-hour north to Brora Golf Course, a favorite of Highlanders - and their sheep and cattle, who graze the grounds to this day.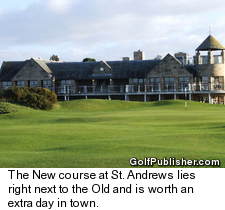 Days 7-8: Aberdeen is worth two days, one for 2005 Open venue Royal Aberdeen and another for Cruden Bay Golf Club just north of the city.
The five-star Marcliffe Hotel is a good base if you want to check out Aberdeen proper; the Red House Hotel, across the street from Cruden Bay, is an option to the north.
Day 9: After playing the wild and windy Aberdeen coastal courses, you'll be dying for a parkland gem. Luckily Gleneagles is nearby. The King's course, built in 1919, is a classic James Braid layout, challenging but fair, with a slew of exciting, birdie-opportunity short par 4s and a great par-5 finisher.
Day 10: Check into the Carnoustie Hotel and play the Championship Course, site of the 2007 British Open and Jean Van de Velde's epic 72nd-hole collapse in 1999. This may be the most difficult course you play, so it's best to schedule it late in your trip, after you've gotten more accustomed to links style.
Days 11-12: Finish your trip where golf began, St. Andrews. Stay at the Macdonald Rusacks Hotel overlooking the 18th hole of the Old Course.
Click here for a Scotland course guide and here for package information.
If you haven't written the Links Trust for a guaranteed tee time, enter the daily ballot that determines half the tee times on the Old Course. Odds of getting selected are better than you think. On your Old Course off-day, play the New, Jubilee or Duke's course (sporting a brand-new look after renovations in 2005), or hit upstart Kingsbarns seven miles outside town.
From St. Andrews it's about 90 minutes back to Glasgow for the flight home. If you're truly fortunate and have a few more days, play East Lothian courses Muirfield, Gullane #1 or North Berwick and spend some time exploring the many delights of Edinburgh.
If not, start saving for your next dream trip.
Any opinions expressed above are those of the writer and do not necessarily represent the views of the management. The information in this story was accurate at the time of publication. All contact information, directions and prices should be confirmed directly with the golf course or resort before making reservations and/or travel plans.