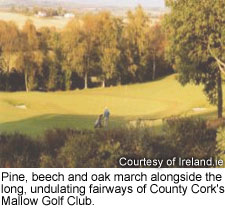 READER LETTER
Ireland's Mallow
Golf Club is a
real corker, says
reader David Forde
(May 23, 2006) - Mallow Golf Club is, in my opinion, the best golf course in County Cork, Ireland. Definitely in the top four.
It's a very long, challenging, tree-lined parkland course. It's a good test of golf for anyone at any level.
My best round was 71 in a Junior Scratch Cup a few years ago. I finished second and was very dissappointed.
I'd recommend Mallow Golf Club to anyone you enjoys a good and fair test of golf!
David Forde
This material has been provided by Golf Publisher Syndications. The opinions expressed above are those of the writer and do not necessarily represent the views of management