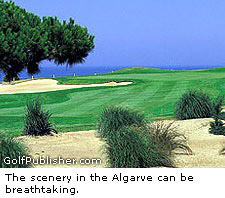 FEATURE STORY
Western Algarve, Europe's most
south-westerly
region, is a place worthy of discovery
By John Samuel,
Contributor
ALGARVE, Portugal (Sept. 2, 2005) - Five hundred years ago, sailors from the Western Algarve, Europe's most south-westerly region, discovered the world was round and that India must lie beyond the western horizon.
Well, it wasn't India, it was the Americas, but a round-ball game was in play and now it's the turn of Americans to discover: the Algarve, and especially what it offers out west.
Out west, that is, of a 100-mile coastline from the Spanish border to its furthest point, Cape St Vincent, where Henry the Navigator, a half-English, half-Portuguese prince, built a navigation school (the Sagres Forteleza, still there!) in the belief the world was round, and encouraging the building of the first caravels, a swift, oarless sailing craft that would prove the theory true.
Out West? Americans will be familiar enough with the appeal of it. More remote. Less spoiled. Better value for your buck. But worth the journey? Let's take a closer look.
Another Henry, second name Cotton, was the Englishman -- three times Open champion -- who in the 1960s was given a paddy field and some eucalyptus trees in the grounds of a brand new hotel named Penina, 25 miles short of Cape St Vincent, and asked to design a golf course which would help pioneer the Algarve as one of Europe's major playgrounds.
To say it has never looked back isn't exactly so. Briefly in the seventies, a political revolution stopped things dead. The autocratic President Salazar was deposed, and so, briefly was Sir Henry at Penina.
But the revolutionaries quickly got the message. Golf was bigger than they were. It was their future. Cap in hand, they called Sir Henry back. And the golf revolution was back under way.
Must Play
Penina, a frequent home to the Portugese Open, stays a pivot of a steadily evolving West Algarve scene.
Closer European ties helped a backward Portuguese economy to develop a modern airport at Faro, central to the 100-mile coastline, and Vale do Lobo, Quinta do Lago and Vilamoura, all within 30 miles of it, sprang up as major centres simply on the back of its convenience.
Picturesque fishing ports like Portimao and Lagos, and all those wonderful beaches and hills an hour-and-a-half hire-car trip to the west, had to wait their turn and for the EN125 autoroute to be completed.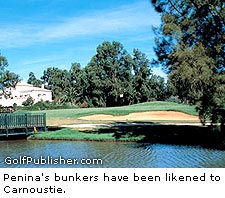 Now Penina is reached easily in an hour, and makes a good centre for the area. Americans may find the 192 rooms a touch smaller than that to which they are accustomed, but the hotel itself serves as clubhouse and general meeting place for a course smartened up over recent years without changing its basic identity.
Long and tough from the back tees, as Cotton intended, it is very flat for its 7,000 yards, and seriously well bunkered, almost on Carnoustie lines. Avenues of trees guard straightforward greens -- Cotton didn't believe in gimmicks -- but getting there is the problem.
There are four par 5s on the back nine, which is message enough. Easy riders will enjoy two nine-hole courses and an attractive swimming pool.
Fifteen minutes' drive west of Penina lies Palmares, designed by another Englishman, Frank Pennink, and recently voted the most enjoyable Portuguese venue by a British golfing Web site.
Hard to believe you can find a golf course at all as you turn off the 125 at the jumbled village of Odiaxere and spy tumbling dunes and the Atlantic below. The clubhouse sits attractively on a hill, and the first hole offers a downward sweep through an avenue of trees, the green beckoning to the right if you hit a good drive.
Pennink fashioned five further holes from the dunes of Meia Praia -- with the par-5 5th a true card-wrecker with sand-hills running all the way along the right and waste, scrub and trees to catch any over-correction to the left.
The green, concave in a hollow, needs absolute precision with the putter. The sixth green beckons a birdie drive across an elbow of water and sand, but the slightest fade and it's a goner.
Afterwards comes a climb back up past the clubhouse and golf in some hilly, undulating terrain while beyond, distant ridges of the Monchique mountains can be glimpsed above the fig and olive trees, where not so long ago women in black shawls sat weeding the semi-rough.
It's a more sophisticated scene now, with greens closely shaved, motorised carts available in the heat, and the group ahead as likely to be German or Scandinavian as British.
But much of the charm remains and, whatever your score, there is no better place to sit on a terrace, imagine Africa beyond the blue horizon, and quaff a cold Sagres beer or a glass of vinho verde, Portugal's very own white (not green) young wine with just a trace of bubble.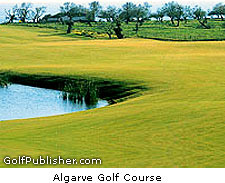 Still going west, the 125 hits the attractive port of Lagos - a new marina complementing the old "slaver" port - and on the far side brings up Boavista, since January 2002, a welcome addition to the Western pantheon.
Designer Howard Swan skilfully exploits a marvellous site with all-round views of the historic port, Atlantic beaches, and Monchique hills. The opening hole, downhill with impressive views, is holiday music, soon followed by percussion and bells.
The third is an uphill par 5 with the second shot demanding an accurate long iron or wood away from encroaching trees. The par-3 sixth at 190 metres is across a chasm to a stepped green. The 13th and 16th offer more stunning views, but beware. These par 5s are tough in any kind of offshore wind.
Boavista can only exist with property development, but visitors are prized, as they are almost everywhere, and a spanking new clubhouse serves them.
Boavista hopes to do as well as a similar, earlier enterprise, the Parque da Floresta, the most westerly port of call 15 minutes further on, close to the village of Budens on the good old 125.
Pepi Gancedo, a Spanish amateur champion with a certain gift of humour, had fun with the Parque's hilly terrain. Old-timers took a 4 iron off the tee at the original 577-yard first, fearful of the dark abyss to which a longer drive was inevitably drawn down the left. Now it is a comfortable 312 metres off the back tee but still a good golf hole.
This and similar changes have removed the whiff of Mickey Mouse and provided a thoroughly enjoyable 6,000-yard test in some of the best countryside of the lot -- rolling hills, valleys, eucalyptus and almond groves, streams and ponds, and, not far away, Cape St Vincent itself, signifying the end of the southern coast and a long, wild stretch northwards towards Lisbon.
Practice facilities and bar-restaurant are especially good, with tennis, archery, lawn bowls, horse riding and spa as available extras.
Solid seconds
Switching direction out of Penina, there are excellent courses to south and east, all within short driving distances.
Northwards is the brand new 7,000-yard Morgado de Reguengo with a host of modern ideas and challenges. Southwards past Penina's eastern border for only a couple miles, lies the little town of Alvor, boasting as it does the Tres Irmaos beaches and its cliffs of theatrical grandeur, a must-see for any visitor.
Just beyond, on a coastal road leading to the thriving port of Portimao, lies Alto, a parkland course with the honour of being Henry Cotton's last before his death. The golf writer Peter Dobereiner laid down his pen to help complete the work, and a British professional, Robert Bridge, oversees an attractive holiday lay-out with the monster 16th -- 665 yards long -- reckoned to be the longest in Europe.
Ten minutes to the east of Penina, turning south off the 125 at the wine-producing town of Lagoa lies the intriguing Pestana Golf Resort.
Around 1990, ace US designer Ronald Fream saw the undulating land close to the resort and fishing village of Carvoeiro and pronounced it 'God given' for golf.
Centuries-old almond, carob and olive trees were set among grassy swales and rocky outcrops. From 18 sets of tees and greens, Fream and Nick Price, who has property here, have fashioned a unique 27-hole lay-out.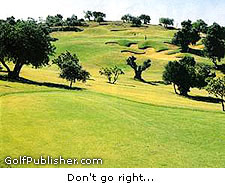 Holes 1 through 4 and 14 through 18 have two greens which will change your game plan depending which greens you are playing. Lakes and subtly-positioned bunkers make for an excellent strategic test over the 6,700 yard par 71.
A separate Pinta course offers an equal test, again over 6,700 yards and par of 71. Bermuda grass fairways and Penn Cross Bentgreens are protected by well-positioned bunkers and two ornamental lakes.
And if you are dumping your ball in those too often, there's always the David Leadbetter Academy to set you to rights.
OFF COURSE
Dining
Portugal, and this part in particular, is an experience and not just a holiday.
Essentially, it has warmth and sunshine for much of the year. On top of that are some of the finest fish and seafood restaurants in Europe. It sharpens the appetite no end to visit the fish market at Lagos, or the harbour at Portimao, especially when the fishermen are bringing in the catch, spectacularly spinning up laden baskets of plump sardines from holds to quayside.
Le Meridien Penina Golf & Resort, PO Box 146, Penina, 8501-952, Portimão, Algarve
Tel: 1 866 559 3821 (toll free from the US)

Palmares, Apartado 74, Meia Praia, 8600 Lagos
Tel: 00 351 282 790 500

Boavista, Lagos, Algarve
Tel: 00 351 282 782 151

Parque da Floresta Golf and Leisure Resort, Algarve
Tel: 00 351 282 690 054

Morgado do Reguengo, Apartado 293, Portimao 8501-912, Algarve
Tel: 00 351 282 402 150

Alto Golf Club, P0 Box 1, Alvor 8500, Portimao
Tel: 00 351 082 416 913

Pestano, Apartado 1011, 8400-908 Carvoeiro, Algarve
Tel: 00 351 282 340 900

Vale da Pinta, Quinta do Gramacho, 8400 Lagoa
Tel: 00 351 282 340 900
For the most part, restaurant fare under umbrella and awning is as unaffected as a fisherman's barbecue - grilled or fried fish, charcoal-broiled or piri-piri chicken and barbecued chops. These are the things to look for.
Unlike the Spanish, whose restaurants are deserted until 10 o'clock at night, the Portuguese eat at normal hours. Caldo verde, or green soup, a broth of potato and shredded cabbage, is a popular starter, or even lunchtime snack given the usual roll, butter and sardine pate.
No-one should leave the Algarve without trying Ameijoas na cataplana (cataplana for short). Named after the dish it is cooked in, the ingredients are clams, sausage, ham, onion, garlic, paprika, chilli sauce, parsley and white wine.
And don't be surprised to find a fish they don't catch on your menu. Bacalhau, or dried, salted cod, has been the national dish since 16th century sailors discovered the Newfoundland banks.
The local red wine, cheap and good, is from Lagoa or the neighbouring upcountry region of the Alentejo, where cork forests stopper much of Europe. Red or white, Portuguese wines are among the world's best, and all the better for being so little known.
Beach restaurants abound. Particular favourites are those at Zavial, Salema (Atlantico), Burgau, Dona Ana near Lagos, Sagres (Nortada) and Tres Irmaos near Alvor. Well recommended evening spots are O Trovador and Dom Sebastian (Lagos), Aladino, Fonte de Pedra and Amadeus (Penina), Dona Barca (Portimao), Vagabondo (Alvor) and Portarade (Ferragudo, near Gramacho).
Accommodation
Many of the courses are resorts providing accommodation.
Hotels are used to making tee reservations and the Portuguese National Tourist Office can provide all flight, hotel, course and other information.
Upmarket there is the Sagres Infante Pousada (282- 62- 42-22). The Pousadas are a network of historic buildings offering the best of wines and food and now, golfer advice and services (pousadas.pt).
Flying in to Lisbon or Faro, hire car is readily available with familiar driving on the right.
Helpful Web sites:
algarvegolfe.com
portugalinsite.com
Any opinions expressed above are those of the writer and do not necessarily represent the views of the management. The information in this story was accurate at the time of publication. All contact information, directions and prices should be confirmed directly with the golf course or resort before making reservations and/or travel plans.