Vacation Guide
Ireland golf vacation guide : To do and see
LOUTH
Dromiskin – situated five miles north of Drogheda this was an important ecclesiastical site from early Christian times. There are a number of religious ruins on offer, including a round tower in which the monks used to seek refuge from marauding Vikings and a Celtic ringed cross.

Hatch's Castle – situated close to the village of Ardee, the history of Hatch's Castle is dominated by military rather than religious considerations. It was here, along the River Dee that the legendary Cú Chulainn is said to have single handedly fought the armies of the south to defend Ulster in the epic "Cattle Raid of Cooley".

Long Woman's Grave – situated in the windy gap of the Cooley peninsula, this is said to be the burial ground of a Spanish princess who emigrated here to marry her Irish chieftain lover but died when she saw the barren, cold landscape of his kingdom.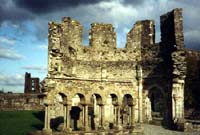 Mellifont Abbey – this abbey was established in 1142 by the Cistercian order on land donated by the local chieftain. It rapidly became a religious focal point for no less than 40 smaller monasteries. The partially restored cloisters date back to 1200 and Mellifont displays a new progressive style of architecture not in evidence anywhere else in Ireland.

Millmount Museum - located in Drogheda is a converted army barracks that recounts the history of the town and its environs. On display is a letter from William of Orange to the people after the Battle of the Boyne.

Monasterboice – situated close to Mellifont Abbey, this is one of the oldest monasteries in Ireland and was founded in the 4th century. The ruins of the abbey contain two 13th century churches, a fine round tower and three sculpted high crosses in varying degrees of repair with Muiredach's Cross representing one of finest examples in the whole country.

St. Peter's Church – located in Drogheda, this church displays the head of Oliver Plunkett, the Catholic Archbishop of Armagh. Plunkett was arrested for treason by the English authorities in 1679 and tried in London. The authorities were determined to find him guilty and Plunkett was executed in 1691. In 1975 he was canonised and earned the title of Saint.