Vacation Guide
Ireland golf vacation guide :
City and regional guide - Cork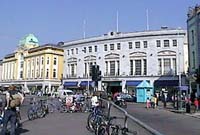 Cork City is Ireland's third largest city after Dublin and Belfast and has always been an important Irish seaport. It was founded on an island between two channels of the River Lee and the city's Irish translation of Corcaigh (meaning marsh) bears testament to this beginning. Over the years, Cork expanded either side of its famous River and today is the second largest city in the Irish Republic. Significantly quieter than Dublin City, time passes effortlessly in Cork during the day, while at night there are plenty of worthwhile distractions such as traditional pubs and fine restaurants.
Known as the Rebel County due to its stubborn resistance and independence over the years, Cork City is relatively compact so the best way to get around and actually see the city is invariably by foot. While it is easily navigated, in order to maximize your time, you are advised to pick up an informational booklet from the local tourist offices. North of the River Lee in the Shandon area is an historic part of the city, while attractions south of Lee include St. Fin Barre's Cathedral, Cork Museum, Cork Jail, City Hall and numerous churches and breweries.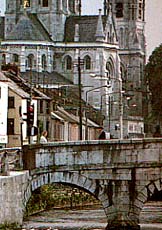 St. Finn Barre's Cathedral now stands where St. Finbarr, Cork's patron saint, founded a monastery in the 7th century. The original monastery grew wealthy over the years and attracted the attentions of Viking pirates, who raided the monastery and city but returned in later years to settle and trade. The triple-spire cathedral itself is an excellent example of French-Gothic architecture and some of its striking features include the fine rose window, the mosaic pavements and elaborate carvings. Just over North Gate Bridge, Shandon Church, the red and white towering steeple of which you will certainly have already noticed, is worth a visit. Its peal of bells has become famous over the years, while visitors may actually try their hand at playing the bells from music cards provided.
Other attractions in the city include Cork Jail, which tells the story of jailhouse life in the 19th and early 20th centuries; Cork City Hall with its impressive limestone pillars and copper-domed clock tower; Cork Museum, which is largely given over to the nationalistic struggle in which Cork played an important role; and the Crawford Municipal Art Gallery, part of which dates from 1724. Today the gallery houses an interesting sculptural collection and a fine selection of paintings.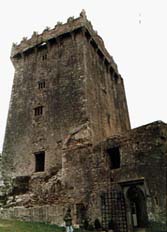 And if, as a city Cork is a wonderful place, then it is certainly no different as a county. There are so many fine attractions and interesting places to visit; it is difficult to select the best of them. Blarney Castle, which lies about four miles from the city, is one of the country's best-known buildings and it is here that visitors come from all over the globe to kiss the Blarney Stone, which is embedded in the upper walls of the structure. It is said that those who kiss the stone are rewarded with the power of eloquence (or gift of the gab), though it is not known exactly how this belief began. The heritage town of Cobh should also be included on your travels. From the 1860's on, most Irish people setting off for America would have arrived in Queenstown (now Cobh) by train. The sad tale of emigration is told at The Queenstown Story in Cobh, which offers a multimedia exhibition and also a large collection of photographs and letters of emigrants. It also contains passenger lists, which can prove useful to those wishing to trace their genealogical roots.
Other interesting attractions include the Fota Island Wildlife Park, which contains many species of animals wandering free, where possible, around the sanctuary; the Jameson Heritage Centre, which will take you back through time and allow you to discover the history and magical taste of Irish Whiskey, known in Gaelic as Uisce Beatha (Water of Life); the Blarney Woolen Mills and Charles Fort near Kinsale. Charles Fort was constructed in the early 1680's in honour of King Charles II and is a classic example of a star shaped fort. In use until 1921, it was besieged in 1690 by the Duke of Marlborough and was destroyed in 1922 during the Irish Civil War. Charles Fort was a declared a national monument in 1973 and reflects all the turbulence of Ireland's often tragic past.
Choose another destination

• Aran Islands •Belfast •Connemara •Cork •Dublin •Galway •Kilkenny
•Killarney •Waterford •Wexford •Wicklow