Accomodation Guide
Ashford Castle Accomodation Guide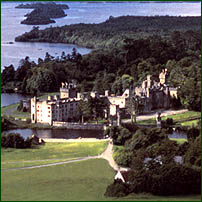 Set on the northern shores of Lough Corrib in Western Ireland, lies Ashford Castle. Lofty paneled ceilings, knights in armour, weathered battlements, rich furnishings, noble paintings and objets d'art surround you in gracious halls and luxurious reception rooms.

The original castle dates back to the 13th century and is Norman in origin. Successive Lords left their mark on it by continually expanding and improving the structure. The central building, a French style chateau, which incorporates the remains of the original castle, was built in the mid 1700's by Lord Ardilaun. It became the home of the Guinness family in 1852 and remained so until 1939, when it was transformed into one of Ireland's finest hotels. Voted 'The Best Hotel in Ireland' by the prestigious travel guide Egon Ronay, Ashford Castle is set amongst acres of beautiful grounds, with a multitude of romantic gardens, forest and walks.
Ashford, which offers the finest in country living, boasts beautiful rooms and two of Ireland's finest restaurants; The George V Room, offers traditional and continental menus, while The Connaught Room specialises in French cuisine.
ROOMS: All 83 guest bedrooms and suites are of the highest standards, offering completely modernised bathrooms with full amenities. Most bedrooms feature high ceilings with splendid views over either the river or lake.
NEARBY GOLF COURSES: Ashford is a fantastic base from which to play the likes of Galway Bay Golf & Country Club (parkland), Lahinch, Connemara and Rosses Point (all links). The famous golf courses of South Western Ireland, such as Ballybunion, Tralee, Waterville and Killarney are all within driving distance.
NEARBY ATTRACTIONS: The castle also proves the ideal touring base. Shopping in Galway City can be combined with a trip to take in the rugged beauties of Connemara and a visit to the picturesque village of Clifden. Kylemore Abbey and Westport House are not to be passed over, while Drumcliffe Churchyard, the burial place of William Butler Yeats, is a must for the literary oriented. One should also cruise out to the legendary Aran Islands, where the Gaelic traditions and language of old Ireland is still practiced and spoken.