Accomodation Guide
Dromoland Castle Accomodation Guide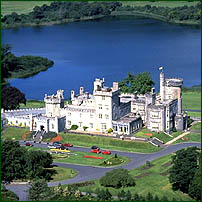 Dromoland Castle, just eight miles from Shannon Airport in County Clare, is one of the most famous baronial castles in Ireland and dates back to the 16th century. Dromoland was the ancestral seat of the O' Briens, Barons of Inchiquin, who are one of the few native Gaelic Irish families of royal blood and direct descendants of Brian Boru, High King of Ireland in the 10th century and legendary in the context of the famous Battle of Clontarf.
Priceless reminders of the Castle's historic past are everywhere; in the splendid wood and stone carvings, magnificent paneling, original oil paintings, romantic gardens and grounds. With today's luxury accommodations, it is truly a perfect blend of past and present. All 75 guestrooms and suites have been recently refurbished. Each room has been decorated individually, with great attention to detail. In the suites, the decor includes rich damask wallpaper, antique furnishings, and custom-designed carpets and drapes.
The Prestigious British travel guide 'Egon Ronay' has named Dromoland Castle's dining room as the best restaurant in Ireland. Dromoland Castle offers vacation pleasures in full measure. Golf, tennis, fishing and boating is available on the Castle estate, as well as the above facilities. Take a leisurely walk through romantic gardens, or enjoy cycling through secluded wooded grounds. Deep-sea fishing is available nearby.
ROOMS: 75 beautifully appointed, large, luxurious bedrooms, giving an uncommon degree of comfort to guests. Each room enjoys its own unique personality, blending old world charm with modern amenities, offering attractive views of the flowering herb garden, 16th century courtyard or shimmering lake.

LOCATION: West of Ireland, 15 minutes from Shannon Airport.
FACILITIES: 18 hole championship golf course • Leisure Centre • Tennis • Billiard Room • Trail Riding • Trout Fishing • Archery • Clay Pigeon Shooting • Mountain Biking
NEARBY GOLF COURSES: Apart from Dromoland's superb championship golf course, Dromoland Castle is probably the perfect location for playing some of Ireland's finest courses. It is located between the great courses of the west and south west, thus being relatively close to the likes of Waterville, Ballybunion, Lahinch, Tralee, Adare, Connemara and Killarney.
ATTRACTIONS: Dromoland Castle is such that one would hardly want to leave the estate. Assuming that one does however, there is plenty to do and see. Ennis and Limerick are both superb nearby shopping towns. Bunratty Castle and Bunratty Folk Park is 15 minutes away, while the famous Burren is just over an hour drive. The legendary scenic beauty of the South West, such as the Lakes of Killarney and ring of Kerry can all be seen in a day trip from Dromoland.